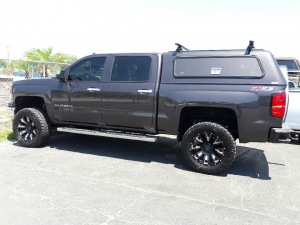 HD SERIES TRUCK TOPPERS TRUCK CAPS BY ARE HD CX

THIS ARE HD CX SERIES TRUCK CAP IS GREAT FOR THE WORK FORCE, WITHOUT THE COMMERCIAL WORK LOOK!!! EASY SIDE ACCESS TO BED OR TOOL BIN OPTION, YOU CAN ALSO ADD LADDER RACKS AS WELL. ALUMINUM SIDE PANEL DOORS THAT ARE PAINTED TO MATCH THE COLOR OF YOUR TRUCK. CALL FOR A PRICE TODAY 813-626-8701. WE ARE IN TAMPA FL - WE WILL NOT SHIP THIS TOPPER.
Tell a Friend About This Product
Do you have a friend that may be interested in this product? Or a gift suggestion? Simply fill out the form below with required fields [*], verification code and send.